Tour of Port Houston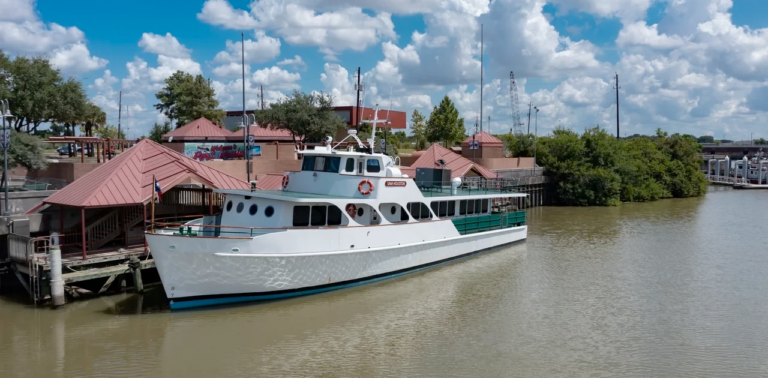 On the evening of Wednesday, April 3rd, The Port of the Future Conference and Port Houston will host a tour of the port aboard the M/V Sam Houston, a 95-foot vessel that holds up to 100 passengers. The boat is air-conditioned with lounge seating as well as standing room on deck.
The Port Houston Tour includes a 90-minute round trip tour of the port and the Houston Ship Channel. While aboard the M/V Sam Houston, guests receive a presentation about the port's history, port operations, and the region's maritime industry. Guests aboard the M/V Sam Houston will enjoy passing views of international cargo vessels and operations at the port's Turning Basin Terminal.
COST. The tour is free. Passengers age 18 and older must present a valid, government issued photo identification before entering Port Houston property. All passengers must have a reservation in advance and check-in with staff at the terminal before boarding.
REGISTRATION.
Port of the Future Conference attendees must reserve their place on the tour by registering below:
ATTIRE. Masks are optional for all passengers while aboard the Sam Houston Boat Tour. Casual attire and flat, comfortable footwear is recommended.
DEPARTURE. Buses to the Port Tour will stage outside the Hilton, departing at 5:30 pm for the port.
FOOD & BEVERAGES. Passengers may not bring food or beverages onto the dock area or aboard the vessel. One free beverage per passenger is offered on the vessel during the tour. Due to extreme heat in the summer, we advise that you bring your own water or water bottles while you wait to board the vessel at the landing area.
CARRY-ON BAGS. Backpacks, over-sized purses and other large bags are prohibited aboard the vessel. Passengers' personal belongings may be subject to searches in accordance with federal regulations.
PHOTOGRAPHY. Cameras are allowed on the tour; however, Port Houston must provide consent for any photographs to be published.
QUESTIONS? Contact PortoftheFuture@uh.edu